Dog Grooming
We do all breeds and mixed breeds of dogs.
Cat Grooming
We recommend cats get
their first bath as a kitten.
          Senior cats should be evaluated by their veterinarian if they are healthy enough to be bathed .
Pet Dental Products
We carry Pet Dental
Products from Oxyfresh
Doggie Dentist
We have a Doggie Dentist on the 4th Tuesday of each month.
appointment dates are as follows:
December 19th (3rd Tuesday)
2018
January 23rd
February 27th
March 27th
April 24th
May 22nd
June 26th
July 24th
August 28th
September 25th
October 23rd
November 27th
December 18th (3rd Tuesday)
Self Service Tubs
Our Self Service tubs accommodate all sizes.
(Self-Service needs to be
in by 5PM)
Care Advice and Referrals
We offer referrals to trusted partners for Training and a variety of other pet services.
Special Coloring
We can color any white dog to match the holidays, a sporting team, special occasions, etc.
Extra Services
Extra services include toe-nail clipping, anal glands, cleaning ears.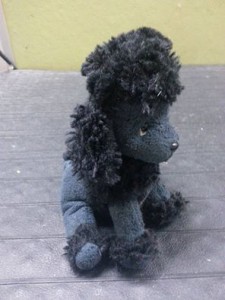 Customer brought in this stuffed toy and this shaggy dog, which they wanted to look like the toy.  This is the results