Dog Grooming
We do all breeds and mixed breeds of dogs.
Cat Grooming
We recommend cats get
their first bath as a kitten.
          Senior cats should be evaluated by their veterinarian if they are healthy enough to be bathed .
Pet Dental Products
We carry Pet Dental
Products from Oxyfresh
Doggie Dentist
We have a Doggie Dentist on the 4th Tuesday of each month.
appointment dates are as follows:
2019
January 22nd
February 26th
March 26th
April 23rd
May 28th
June 25th
July 23rd
August 27th
September 24th
October 29th* (5th Tuesday)
November 26th
December 24th
We can do Cats too!
Self Service Tubs
Our Self Service tubs accommodate all sizes.
(Self-Service needs to be
in by 5PM)
Care Advice and Referrals
We offer referrals to trusted partners for Training and a variety of other pet services.
Special Coloring
We can color any white dog to match the holidays, a sporting team, special occasions, etc.
Extra Services
Extra services include toe-nail clipping, anal glands, cleaning ears.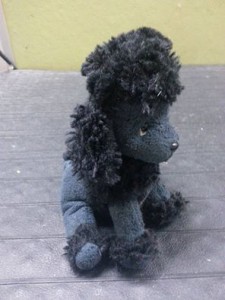 Customer brought in this stuffed toy and this shaggy dog, which they wanted to look like the toy.  This is the results